To be honest, taking a bath is not only about getting clean—that's what showers are for. Baths are about calming your troubled mind and soothing your aches and pains, both physical and emotional.
To take a nice bath can have the effect of regenerating your system. Giving yourself a mental and physical break from a hectic lifestyle.
Now, having a nicely designed and comfortable bath can definitely even increase all the relaxation factors. But having a crystal bath, that takes things to a completely different level. And they are nothing less than absolutely breathtaking.
We also added a couple natural stone bathtubs to the list, it has a whole unique look to it but is absolutely gorgeous too.
Could you see yourself lying in one these beautiful creations? And let us know which one is your favourite.
Rock crystal bathtub from Baldi
This sparkling bathtub is crafted from a single block of rock crystal weighing over 10,000 kg found in the Amazonian rainforest. The outer surface is left rough to show the unhindered natural beauty of the rock crystal. By integrating lights in its surroundings, it becomes a shimmering gemstone.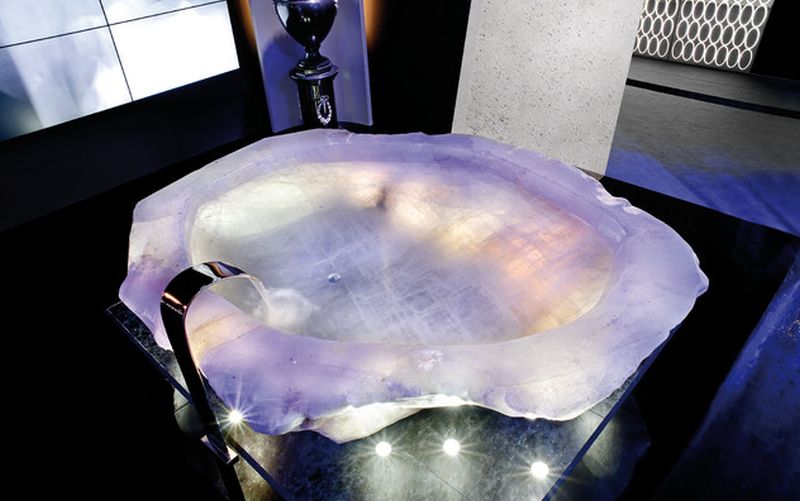 Round stone bathtub from Elite Stone
Sitting on a shining metal base, it is a solid block of grey bubble onyx crafted into a freestanding bathtub that exhibits fine craftsmanship. The circular shape and clean lines are ideal to add some color and texture to your bathroom.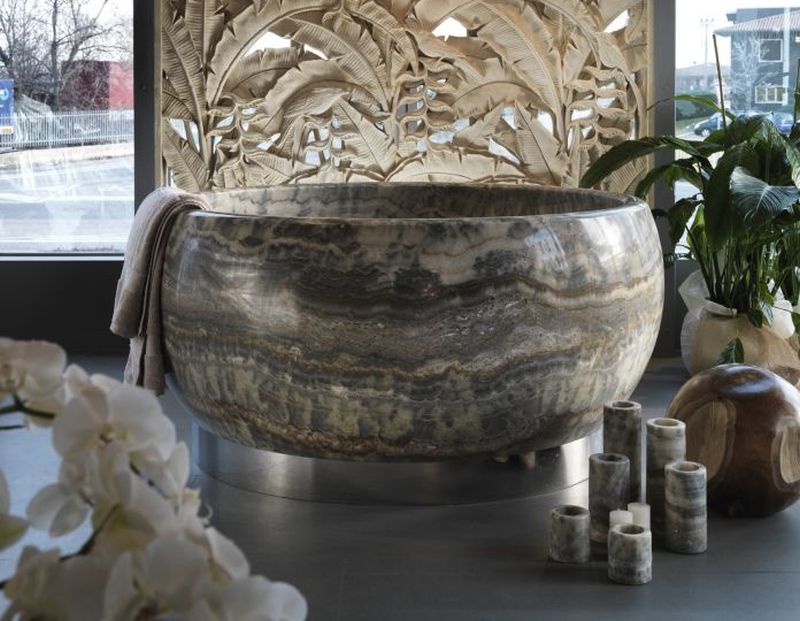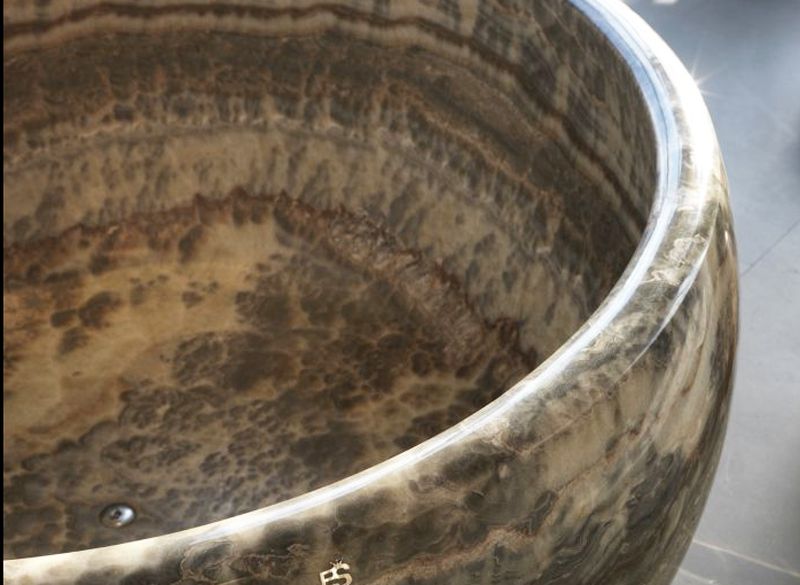 Black stone bathtub
This stunning bathtub is made of a giant black rock found on river banks. The designer has hollowed the rock to give it the shape of a bathtub. Those who care a little less about details can go for this tub carved out of a giant rock. It will be an attention-grabbing piece whether you place it indoors or outdoors.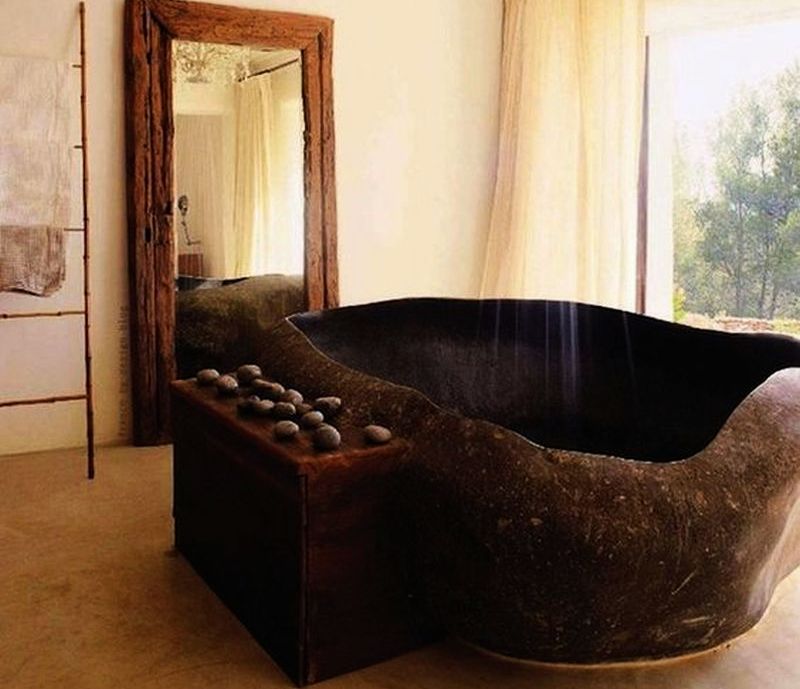 Gemstone bathtub by Jan-Carel Koster
Dutch sculptor Jan-Carel Koster has created this unique, three-person bathtub for GUIDERO Holland B.V. from an 18,000 kg block of Labradorite. The different colors refracting from the bathtub are what makes it a beautiful and functional sculpture for your bathroom.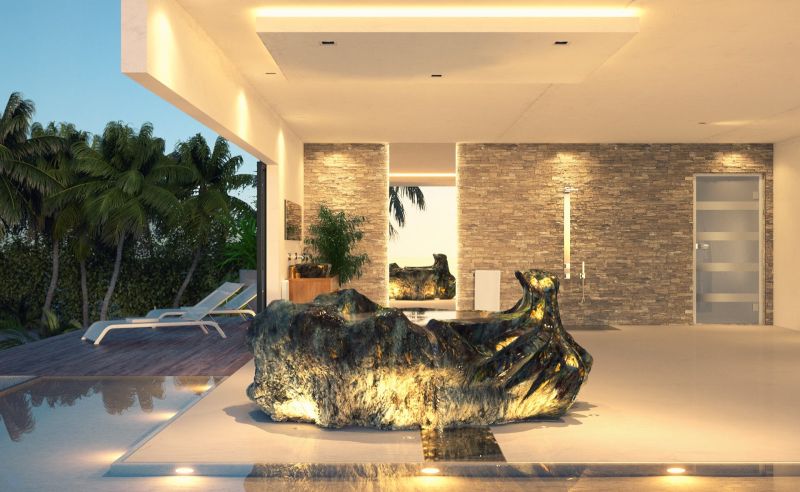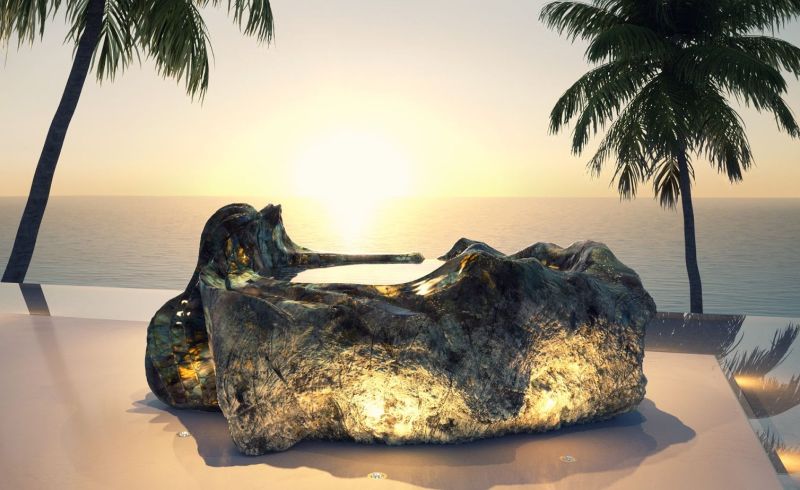 Some more Unique Baldi Rock Crystal Bathtub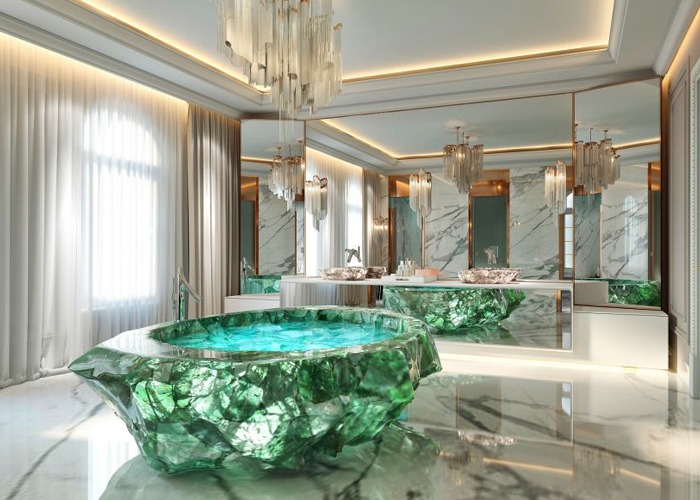 The spectacular Baldi Amethyst bath tub
For the die hard Amethyst fans. There is an entire set of accessories to it that you can purchase starting with lotion dispensers, soap dish and everything else you could need in order to have your entire bathroom products made in amethyst.

Baldi Malachite Bathtub
Designed by Luca Bojola it is made out of turquoise malachite.
The legs are made out of pure 24K gold as we have seen before. The Malachite crystal is believed to be a strong protector of children and aid in busienss purposes.
Baldi Rock Crystal Bathtub
It was carved from a 10-ton crystal and embellished with diamonds for the ultimate luxury bathing experience.
One end is slightly lowered in order to give the feel of an infinity pool with the extra water falling on a bed of crystal stones. The entire mood is so primal and simple it takes luxury bathroom furnishing to a complete new level.
Baldi's Most expensive bath made from Rose Quartz crystal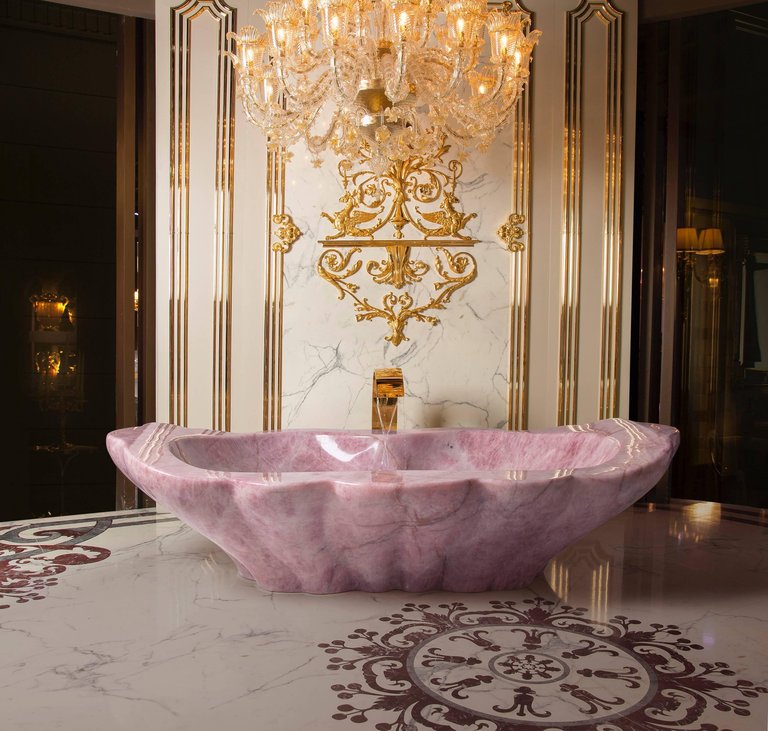 Now don't think they come cheap, some of the bathtubs showed here cost over a staggering 1.1 Million Dollars. Between the cost of the materials and the manpower needed to lift the upwards of 22,000 pounds (10,000 kg) of rock, 1 million euros ($1,114,750.00) makes a bit (tinsy tiny bit) more sense.
So start saving if you're interested in one of these breathtaking custom made bath tubs, if you don't have the money lying around.
Sources: alux, pinterest, house beautiful, home crux